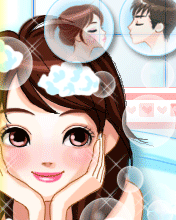 glitter-graphics.com
Firstly, KONNICHIWA my dear tomodachi....:)
So SORRY coz lma btul udah ndak ber'blogging'...
Sejak semenjak aQ melanjutkan STUDY aq kat MJSC nieh, mcm mau bangas udah BLOG aQ ni.. isk..isk..
So, let's back to the main topic...
L.O.V.E
Actually, bila aQ mention jak p'kataan keramat nieh,
ber'blushing' trus muka aQ yg ndak COMEL nieh...
memang dah kebiasaan bila TEENs cam kita nieh chattin' or talkin' bout LOVE right..?

Same as me...
I really HATE to fall in love...
But LOVE always chasing me...
when I already forgot bout my ex'crush',
yang baru datang menjemput...
isk...isk...:'(

ok... maybe ini jak laa...
skrg nieh aq masih lgi kat skol..
tpi, curi2 online jak nieh..

-sayonara-